Start Small...Grow Big!
EngageCRM UK can start your project with only 1 user!
You can choose one of our Off the Shelf solutions or request a bespoke processes and customisations!
EngageCRM UK uses free software that is perfect for Start Up businesses growing fast
CRM has some amazing admin developer tools that make the software flexible to work for you!
These features help you customise the system and grow:
Create / edit fields
Change Layouts
Create and deploy new modules
Unlimited Reports
Unlimited Automation triggers (workflow)
If you need assistance with outside of the box features, development we are on hand to provide support, consultation and a quote!
Implementation
Starts from
Off the shelf system or basic install
System & Hosting set up
1 User
Online Training
1 User
3GB Storage
Online & Telephone Support
On Demand Training
Investing in the future
CRM and cloud based systems are not just to solve your needs today.
If your organisation's requirements change, you need software that is adaptive and cost effective when change is needed!
SuiteCRM & Nextcloud are continually evolving in real time as their developers upgrade the software.
With an active community and dedicated developers working on the Open Source software, it is forever getting better:
Quality of software
Security
Features
Bugs & issues resolved
On the Go
Take it further with QuickCRM!
+£10 per month / per user - includes EngageCRM app support!
This off the shelf IOS and Android app is ready to go for your users
Securely record and store information, create records and upload photos from the mobile device!
Create & update contact information
Manage User Calendar
Upload Photos
Digital customer signature
Locate jobs based on location (Maps)
Clients (Contacts & Organisations)
Start ups can use CRM to manage their data
Easily manage Organisations & Contacts and get the right information when you need it!
CRM has GDPR fields and reports for data management!
Be confident your data is secure with EngageCRM UK and UKFAST hosting
Website > Lead
Contact
Organisation
Groups & Tags
Filters & Reporting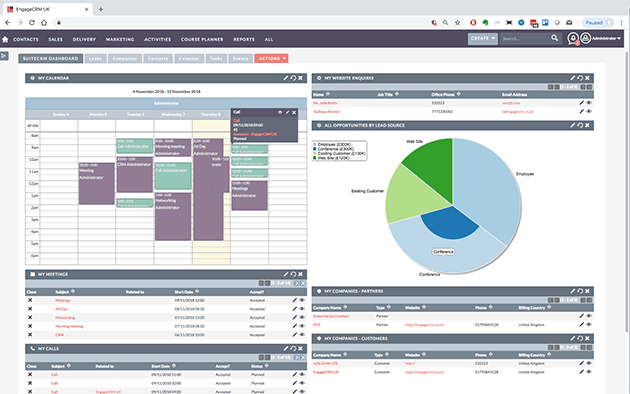 Safe & Secure
Record Lawful Basis
Data Source and Dates
Manage Opt in/out
History & Audits
Add Products & Services
Status tracking and email alerts
Quote to Invoice 1 click
Customised PDF & Email Templates
Sales Pipeline
View your sales pipeline and activity on one screen!
Create and track your Opportunities & Quotes with your clients.
Sales reports include by status, user, and close month
CRM
Customer Relationship Manager
An online system & database that helps organisations of all sizes collect, manage and group their client data.
CRM can help improve all areas of an organisation from marketing & sales to contracts & delivery.
Keeping all of your interactions with your client in one place
Functionally very similar to the widely used SalesForce with a difference:
No User Licences
100% Control of the software
Customise your system to meet your needs, add fields and change layouts to ensure you capture the information important to your organisation!
Cloud
Cloud allows you to have personal storage online, that you can access securely anywhere!
Functionally very similar to the widely used Dropbox with a difference:
No User Licences
100% Control of the software
Upload & organise your Documents, Files, Images, Videos and much more!
Would you like a Demo?
For more information on how we can meet the needs of your organisation get in touch now!