Inspire's focus is on creating & supporting a network of entrepreneurial businesses and developing a winning strategy in the south west.
Join an inspiring group of businesses who have developed winning business strategies, who can connect quickly to resources, funding and business opportunities and who share experience and knowledge
Email Marketing
Inspire have designed and implemented their HTML templates into their CRM!
Using the CRM to email invites and newsletters to members
Reporting on views and clicks to review campaign progress
Enquiry > Contact & Organisation Management
Using website forms Inspire have Enquires in their CRM and through their qualifying process they convert the enquiry into a new Organisation & Contact for the team to follow up
Using CRM, Inspire manage all their member information!
GDPR fields help manage consent and date recorded to ensure their data is compliant!
Website > Lead
Contact
Organisation
Groups & Tags
Filters & Reporting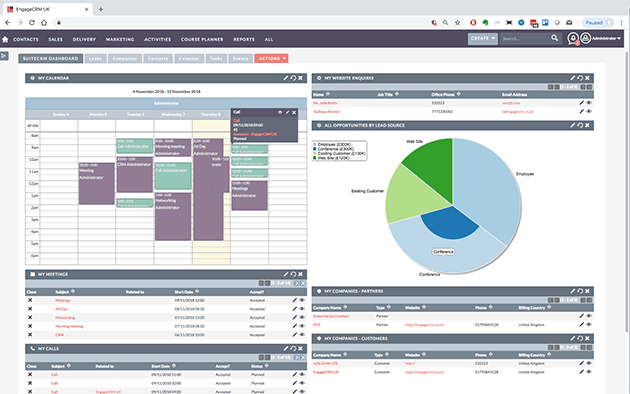 Safe & Secure
Record Lawful Basis
Data Source and Dates
Manage Opt in/out
History & Audits
Memberships
Tracking & Renewals
Using Contracts inside of CRM allows Inspire to manage their memberships
Recording all of the 'Potential' memberships to manage their Sales Pipeline and uploading signed contract documents
Reporting on all active memberships and the financial income of new business and renewed business!
Start > Renewal Dates
Membership Types
Membership Value
Renewals & Cancellations
Generate Contract PDF
Activities & History
Keep a record of your activities with your clients and manage user's schedules
Create Meetings, Calls & Tasks
Relate to multiple Contacts and Organisations
Shared User Calendar
Sync with Outlook and Gmail
Sales Pipeline
View your sales pipeline and activity on one screen!
Create and track your opportunities with your clients.
Sales reports include by status, user, and close month
What 'Inspire' users have to say
We have been working with Engage for nearly 7 years, we use the system across our entire organisation, from managing client memberships to collaborating with local authorities to deliver one of our government funded projects! The system is as flexible as we need and the support team are always a call away!

Mandy Patterson Inspire

I use EngageCRM UK daily, the support team have helped me write reports and manage our client memberships. With the recent upgrades to the layouts everything is much clearer!

Amanda Roberts Inspire
Would you like a Demo?
For more information on how we can meet the needs of your organisation get in touch now!